One late night Karena was walking around town, the moon was full and the night was clear. She went to the lake to think, as she did every time she needed to clear her head. At exactly midnight something happened. A male appeared, seemingly from out of nowhere, and told her she was the one he was waiting for. Completely scared Karena ran away from him, only to run into another guy who appeared out of nowhere. He too told her she was his soul mate. Again she ran. When she got home her parent's told her the truth. Her mother was a witch and her father a vampire. Their union was looked down upon by everyone. Until one day when they made a deal with the elders of her mothers Coven and her fathers Coven. Unfortunately, the deal they made was that once their first daughter reached 18 she was to marry the person next in line to be in charge of the Coven or Group. The one problem was that Karena was a mixture of both, and she had to choose only one side, and when she chose, her other half would be locked up within her for eternity. Who will she choose? And what will either side do to get Karena to mate with their future leader?
*~CHARACTERS~*
~ Karena -- Me
~ Future Witch Leader (Male) -- Sumara
~ Future Vampire Leader (Male) -- Kressie
~ Karena's closest human friend --
~ Coven's Crone (Current Female Witch Leader) -- Me
~ Vampires Mistress (Current Female Vampire Leader) -- Sumara
~ A few Witches
~ A few Vampires
*~RULES OF THE RP~*
~ You MUST make it lengthy. No one sentence/one word stuff. Minimum of 3 sentences per post.
~ Since you must make your posts long you may only be 1 character, UNLESS, I have seen your work and believe you can handle 2 characters.
~ The profiles must also be lengthy. Give a pretty good background of your character. And please try and us a pic that is slightly believable. Don't use a girl with wings for a human.
~ The Vampires have the ability to alter human minds and memories in order to feed, do not try using it on other vamps or witches, it won't work.
~ Witches can use all sorts of Magick. They cannot control someone though, they use their magick for good (Light Magick)
~ If you choose to be a human you cannot randomly have powers, unless you were undercover to keep Karena safe, and I don't want more then 1 person from each side to be that sort of character.
~ Karena is the ONLY HYBRID. There are non other like her. Her parents were both in line to take charge of their respective covens and the deal was made so they could be together, and both produce an hair to the covens throne.
(Note: Witches can grow old and barely age, but unlike vamps, they die around 200 years old.)
*~Character Sheet~*
NAME::
AGE::
SPECIES::
BEST ELEMENT:: (witches only)
BEST POWER:: (Vampires only; mind control or memory erase/replacement)
BIO:: (Remember, Lengthy)
LOOKS:: (If you cannot find the perfect pic the describe your character IN DETAIL, or just describe the slight change [hair color, eye color etc.])
*~*~*~*~*~*~*~*~*~*~*~*~*~*~*~*~*~*~*~*~*~*~*~*~*~*~*~*~*~*~*~*~*~*~*~*~*~*~*~*~*
NAME:: Karena Drako
AGE:: 18
SPECIES:: Witch/Vampire Hybrid
BEST ELEMENT:: Water
BEST POWER:: Memory replacement
BIO:: Karena was born like any normal human, and grew up in a home with good parents and always having everything she needed to have. She never really knew her relatives but she didn't mind, she had friends for that. Her parents encouraged her when she started taking Dance and Music classes and also started getting into water sports.
Her school life was fine. She had a few good friends and was known a little thanks to her dancing. She got through most of High school without any incidents, getting a few boyfriends but nothing really huge.
Karena
thought
she was a normal high school teen. She was in her last year and everything seemed to finally be working out for her. One night she took her normal late night walks to the lake where she always went to think and ponder things. She never thought anything like this would ever happen. but when the clock stroke midnight on the day of her 18th birthday 2 men appeared saying they were her mates. After running home and telling her parents about the strange men they told her about the truth. What they were, the deals, and how sorry they were now that it was time for her to pay their promise.
Karena now has to choose between a vampire and a witch, which also mean she'd loose half of herself in the process, and become the next ruler of either a Witch Coven, or a Vampire Coven.
She just wants to be a normal teen again...what will she do?
LOOKS::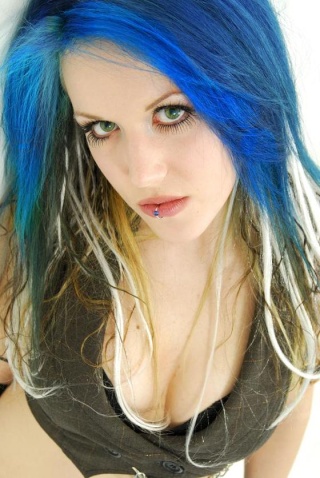 (Her hair is blue and black, and has one purple eye, one dark blue)
NAME:: Natalia Volfson
AGE:: looks to be in her late 60's but she is actually 199 years old.
SPECIES:: Witch
BEST ELEMENT:: Air
BIO:: Natalia was born and raised in the coven. She always followed all the rules, and never disobeyed her mother, or the elders. She was best friends with Karena's mother when they were younger, they even used to practice magic together. When Karena's mother started sneaking out Natalia wondered what she was doing. One night she followed and saw her best friend in the arms of a vampire. She reported it to the elders of her Coven, knowing it was against the rules to be with a vampire.
Unknown to anyone then, they had already married and were going to leave to live as humans. Natalia was asked to take charge of the coven, until Karena was 18 and old enough to choose her mate and decide what she would be.
Natalia took care of her coven, and told the young heir to the the Witches Coven about Karena and how she'd be his one day. She never expected Karena to take so long to choose.
Natalia is a nice old lady if you meet her on the street. But if you anger her, she can kill you with barely a thought.
LOOKS::


Last edited by KarenaTheFreak on Sun Aug 15, 2010 8:48 pm; edited 2 times in total