Example of a Hippogriff: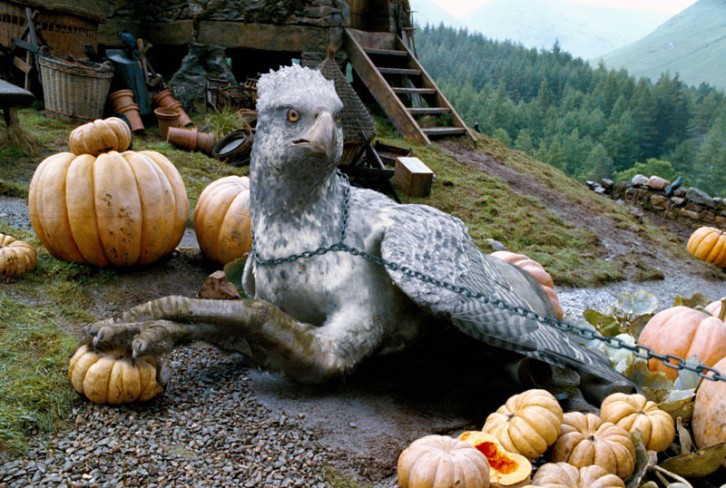 Info on Hippogriffs:
A Hippogriff is a magical creature that has the front legs, wings and head of a giant eagle and the body, hind legs and tail of a horse. The Hippogriff is very similar to the Griffin, just with different body parts. Hippogriffs have very strong and tough breaks that are steel-colored and they are very harmful. So take my advice and don't get in the way of them. Hippogriffs have very bright orange eyes. Hippogriffs have talons on their front legs and they appear to be a foot long and they are very deadly.
"
"
Easily offended, hippogriffs are. Don't never insult one, 'cause it might be the last thing yeh do.
" - Quoted by Hagrid
Etiquette
When you approach a Hippogriff, there is something that you must do in order to avoid danger. Hippogriffs are very proud of themselves, and as humans you must show proper respect to them by bowing to them and waiting for them to bow back to you before you can approach them. Eye contact should be kept with the Hippogriff at all time without a single blink. By being polite you must let the Hippogriff make the first move, if you offend the Hippogriff it may attack you.
Hippogriffs can be tamed, but they can only be tamed by experts who know a lot about Hippogriffs. The only person that has been successful with a Hippogriff Is Rubeus Hagrid. But no matter how proud Hippogriff are; they can also be fiercely loyal and protective of those who have earned their trust. This was shown by Buckbeak on two occasions (that I can remember); when he attacked Severus Snape in defense of Harry Potter during the
Battle of the Astronomy Tower,
and again when he lead Hogwarts'
Thestrals
in attacking Voldemort's giants during the
Battle of Hogwarts
.
Diet:
Hippogriffs only eat certain things. Hippogriffs mostly just eat insects, birds and small mammals such as ferrets. When a Hippogriff breeds, they build nests on the ground, and lay only a single fertile egg. The egg usually hatches in 24 hours. Baby Hippogriffs are able to fly within a week, but it takes many months before they are strong enough to fly on long journeys or travels.
Protection from Muggles:
If you are an owner of a Hippogriff, you are required by law to case a
Disillusionment Charm
on the creature every day to prevent it from being seen by muggles.
Misclaneous Info on Hippogriffs:
A head of Hippogriffs are kept at Hogwarts School of Witchcraft and Wizardry, and Rubeus Hagrid used them in his first Care of Magical Creatures class in 1993.
Buckbeak was once owned by Sirius Black.
Hippogriffs is derived from the Greek word "Hippos" which meaning "horse" and the magical creature known as the griffin. In this case, it has the body of a horse as opposed to a lion, but keeps the head of an eagle.
Now class please read this as it is our first lesson. I made sure that it was very small and wait for your homework.
Handed in on Time by _______ at ____: 100 points
Handed in two day late at _____ at ___: 50 points
Handed in four days late at ____ at ____: 10 points

If it is handed in any later than 4 days after it is assigned then you will get no points and a warning and if it keeps happening you will get detentions and then if it gets worse you will be kicked out of the class.